PHYSICIANS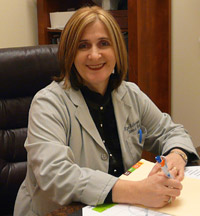 Kijana Seferovic, M.D.
Internal Medicine

"It is with joy and honor that I am able to associate with my patients in helping them achieve their best health possible."

"I enjoy long-term relationships with my patients. A great physician must combine empathy with good listening and communication skills."

Dr. Kijana Seferovic is a Board Certified Internal Medicine specialist who has practiced medicine for over 22 years in the United States and Europe. She became a member of the American College of Physicians in 2002.

Dr. Seferovic gradueted from University of Blegrade School of Medicine in 1986. Upon coming to the United States, Dr. Seferovic finished her residency and internship at John H. Stroger, Jr. Hospital of Cook Country. At Cook County Hospital she was chosen as best resident all three years in a row.

Dr. Kijana Seferovic is fluent in English, Bosnian, and German. Her clinical interests range are acupuncture, herbal medicine, integrative medicine, and aesthetic medicine.

Dr. Seferovic is affiliated with Swedish Covenant Hospital, Weiss A. Memorial Hospital, and Thorek Memorial Hospital.